96% Undensified Silica Fume
96% Undensified Silica Fume
96% Undensified Silica Fume is a micro-silica fume with 96% SiO2 content, and the Bulk density is 240-320kg/m³.
96% Undensified Silica Fume (Microsilica 96D)  is a high-performance pozzolanic material that is produced as a byproduct of the production of silicon metal and ferrosilicon alloys. It is a fine-grained, amorphous powder that contains over 96% silicon dioxide (SiO2). The specific surface area of 96% Undensified Silica Fume is extremely high, ranging from 25,000 to 30,000 m2/kg, making it an ideal additive for a variety of high-performance applications.
You can also choose our dense silicon powder, which can be customized according to user needs.
96% Undensified Silica Fume Properties
Microsilica grade 96 is produced purposely as a separate product, aimed for stable properties and very low impu- rity levels. Our 96% Undensified microsilica is also produced with special attention towards microsilica quality.
The high purity 96% undensified silica fume makes it particularly suitable for its use in refractory applications. The low content of carbon (giving the light colour) ensures good flowability of the castable. The amount of alkalies is also very low, preventing softening at high temperatures.
96% undensified microsilica is the standard high quality grade offered to the refractory industry. It is globally available either as densified (D) orundensified (U). It is a versatile quality for use in advanced refractory products such as low and ultra-low cement castables. The colour is light grey with a low amount of impurities.
Another important characteristic is stable pH-values, giving castables with regular and predictable setting properties.
Ewende 96% undensified Microsilica is manu- factured on a campaign basis. It is particularly suited as a cost-effective alternative for low-cement castables. The colour is light grey, with a control- led and stable chemical composition.
Quality Assurance Microsilica is produced, packaged and shipped under strict control according to the Quality Management System. The system is certified according to the ISO 9000 series.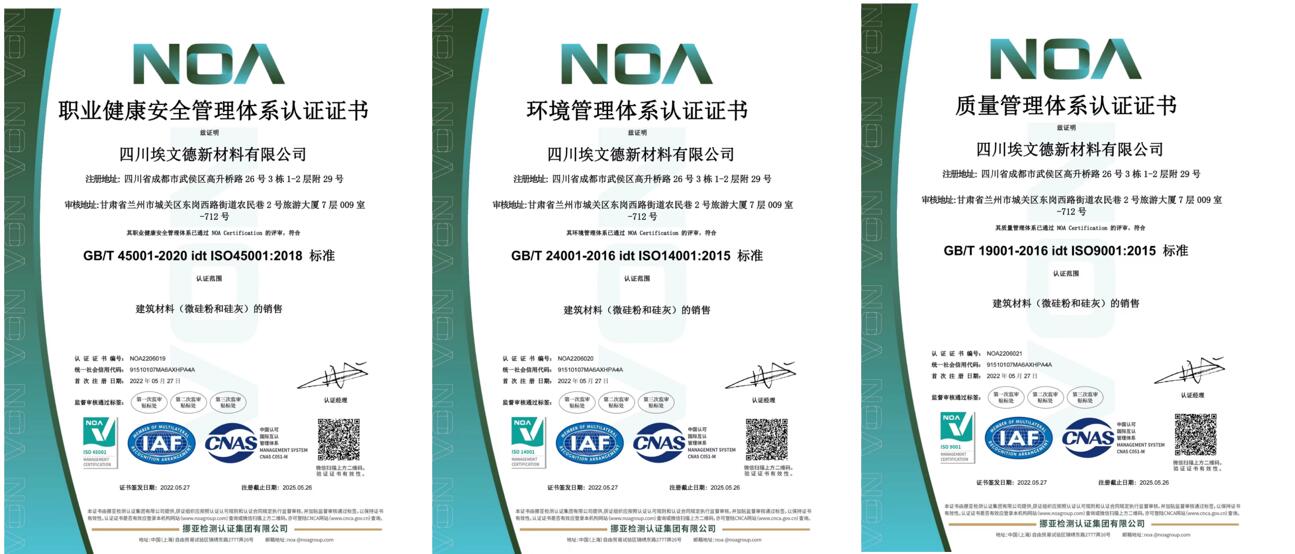 96% Undensified Silica Fume Parameters
National Standards for Silica Fume for Concrete
National Standards and Organizations
Europe
Norway
France
Australia
United States
Canada
Japan
China
Standard Code
CEN EN
NS
NF
AS
ASTM C
CSA
JIS
GB/T
GB/T
Standard Number
13263
3045
P18-502
3586
1240
A23.5
A6207
18736
27690
SiO2 %   ≥
85
85
85
85
85
85
85
85
85
SO3  %   <
2
 
2.5
3
 
1
3
 
 
CI- %   <
0.3
Report
0.2
Report
 
 
0.1
0.1
0.1
CaO  %   <
1
2
 
 
 
 
1
 
 
MgO  %   <
 
 
 
 
 
 
5
 
 
Si %  <
0.4
 
 
 
 
 
0.4
 
 
Na2O+K2O     %  <
 
 
4
 
 
 
 
 
1.5
C    %   <
 
 
4
 
 
 
 
 
 
Water Content   %   <
 
 
 
2
3
 
3
3
3
Burn Vector   %   <
4
5
 
6
6
6
5
6
4
Specific Surface Area ㎡/g
15-35
≥12
20-35
 
 
 
≥15
≥15
≥15
45μm Sieve Residue  %   <
 
 
 
 
10
10
 
5
 
Loose capacity   kg/m³
 
 
 
Report
Report
 
 
 
 
Specific Gravity g/㎝³
 
 
2.1-2.3
 
 
 
Report
 
 
Water Demand Ratio     %   ≤
 
 
 
 
 
 
 
125
125
Volcanic Ash Activity Index
%(3d)  ≥
 
 
 
 
 
 
 
 
 
%(7d)  ≥
 
 
 
Report
105
85
85
95
105
%(28d) ≥
100
95
 
 
 
 
100
115
 
Water to Glue Ratio
0.5
0.5
 
 
0.484
 
0.5
0.5
0.5
Conservation
Standard
Standard
 
 
Accelerated
Accelerated
Standard
Standard
Accelerated
96% Undensified Silica Fume Application
96% Undensified Microsilica For Refractory 
The use of silica fume in refractory castables provides better particle packing. It allows for less water to be used while maintaining the same flow characteristics. It also promotes low-temperature sintering and the formation of mullite in the matrix of the castable. This produces a castable that has a low permeability to avoid gas, slag and metal penetration. Castables incorporating silica fume are stronger than non-silica fume-containing castables, especially at high temperatures with higher density they attain lower porosity and are more volume stable.
Advantages Of adding Silica Fume ( Microsilica ) In Refractory
● Silica fume in refractory is used in unshaped refractories
● Silica Fume in refractory is used in gunned refractory materials to improve adhesion in castables and minimize rebound
● Silica fume in refractory is used in shape refractory
● Very low permeability to chloride and water intrusion.
● Extremely high electrical resistivity (20 to 100 times greater than ordinary concrete).
● Increased abrasion resistance on decks, floors, overlays and marine structures.
● Superior resistance to chemical attacks from chlorides, acids, nitrates and sulfates. 
96% Undensified Silica Fume Packaging
We can also produce according to your requirement.
Ewende is one of the leading silica fume suppliers in China, all grades of silica fume for sale are quality assurance, our microsilica price is very competitive in the market, contact us to buy 96% Undensified Silica Fume or get silica fume price per kg now!
Silica Fume Supplier - Ewende
Ewende is one of China's leading micro silica producing companies. We supply high-performance Silica Fume products to concrete and refractory industries all around the globe.
We specialize in the production of densified and undensified silica fumes. Over time we have established a strong clientele network as a result of our quality products. But what makes us different from other micro silica companies?
Contact Ewende to get your quality silica fumes today.
Get A Free Consultation With Us
Ewende's mission is to provide professional services, high quality products, strict after-sales control, and actively solve customer problems for mutual benefit and win-win.